Be a Hippie Cat now!
Yes, we are going retro! With all of the stuff going on in this world, it is time to find some good vibes. It's time to embrace our Hippie Cat within! 
There are still a few of us Hippie Cats who are determined to bring to the word peace and love. Are you that cat too?
Do you have Hippie DNA?
If you want to you can also take the Hippie Cat pledge. (see below) 
Are you a Hippie Cat? 
You see life in a kaleidoscope of colors.

You know that being a Hippie Cat is not a fad; it is a way of life.

You have found your inner purr and you didn't need direction.

You find peace sitting where you are. On the window sill, in a box. All is good.

You use way too much organic catnip and have no issue with this at all.

You're wearing a peace sign collar…it is pawsome!

You always worry that the tuna is dolphin free.

You love curling up in crocheted items and love to play with colorful string.

You like to use brown bags & boxes because that means you recycle.

You go with the flow, with your head held high and tail in the air. You got sass.

You keep your claws in and instead give head bumps and purrs.

You love cuddles, hugs and fluffy rugs!

You have gratitude in your heart for all living things…including the dogs and ferrets. 

You beat to the sound of your own cat drum…you follow your own whiskers and heart.

You enjoy rubbing your whiskers on quartz crystals. The energy is great and it aligns your cat chakras.

You pad your paws gently upon this earth not harming anything.

Your close your eyes daily to cat-meditate on the sounds around you. 

You give high five paws and peace signs to all your cat friends.

You're purrs bring Zen and peace.

You are overly accepting of your humans ways- no judgment.

You love spreading the word of Zen and mindfulness even if other cats don't want to hear it.

You believe in peace & love, but will stand vigil against things that are wrong. You may be hippie but you have an wild roar!
And lastly….when humans say Peace, Hugs and Purrs…you get it!
 "Hug a cat, you'll get zen-love back." 
-KT Cat Paws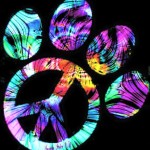 Do you want to take the Hippie Cat pledge?
To be a Hippie Cat you only need to pledge to the Hippie Cat Ways….
Hippie Cat Ways
I pledge that I will use my Hippie Cat ways for good.
I will spread peace, love and inner purrs to all who come my way, especially kittens.
I will be a magnet for cat cuddles, head bumps and love.
I will keep my sense of humor for without it I would be a cranky hippie cat.
I will not convert other Hippie Cats for every Hippie Cat needs to follow her own way.
I will slow down, enjoy life and be "one" with whatever I am doing, including using the litter box.
Above all, I believe that all Hippie Cats not only share love, but are love….
…..the Inner love we have is what makes us pawsome!
This is heavy, so if you agree with the Hippie Cat ways…. you need to take the Paw Pledge.
Take a picture of your cat's paw. (peace signs are optional, so are flower rings.)
After that, you will always and forever be a part of the Hippie Cat society!
Be a Hippie Cat now, and You'll be a far out cat!
KT "Hippie" Cat Paws
P.S Here is Miss Mattie's Thursday Cat Thoughts on "Flower Power."