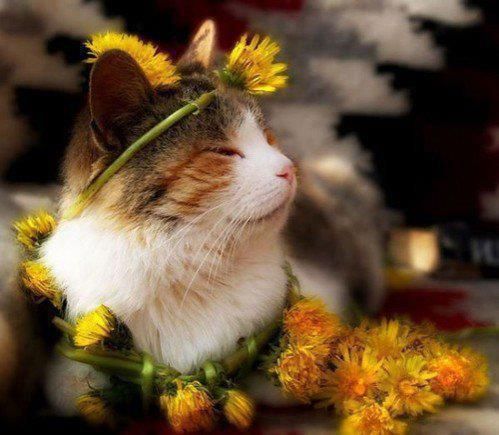 Flower Power -Hippie Cat 
Thursday Cat Thoughts
By Miss Mattie
Yea, I guess this is about flower power and hippie cats, or actually plastic flowers and this cat who is trying to get away. 
As you know, my Human has been doing this "hippie" thing for a week. She is posting about Hippies, acting like a hippie and listening to hippie music. She is telling me and Mr. Bailey that we need to take the Hippie Cat pledge. She has raised our paws in peace a few times too.
I think I even heard her say "groovy."
Help.
I know she is a tad eccentric as she does run a Zen cat blog. Come on man, you would have to be to do what she does.(Did I say come on man?)  Yes, she is a retro peace loving mom, but this hippie thing is worrying me. I think she is dipping into our catnip.
I am waiting for the proverbial lava lamp to drop.
Today she tried to put plastic flowers on my head. Really?
She caught me shouting… "ALL flowers have power!" 
We need the hippie dawg to help us. She has lost her marbles and he needs to find them. Start sniffing dawg!
Since I don't know any hippie cats, I can't say for sure, but I bet they would be horrified to see a red plastic flower ring around my head. Dirt worshiping, tree hugging, sky kissing hippie cats will not find love in plastic.
But, leave it to my human mom to tell me why they might.
She says….
They will last a long time so we can do this next year too. (awesome-not!)

Finding beauty in things that others don't is the Hippie-Zen way. 

You can't eat them. ( yes I can, have you seen what I do with boxes?)
We don't have fresh 'picked' flowers in February! (We have stop and shop. Put your hippie clogs on and go em. And get me cat food while you're there.)  
If you can use a plastic litter box instead of the earth to poop, you can wear plastic flowers ( darn, that makes sense!)
I told her she should find those flowers made out of cardboard. That would be great, like eating Zen. 
She told me that it is not about the flowers because being Zen is not about what you wear but about how you feel. ( Then why put them on my head!)
I told her this was more about her Zen then mine. Hey, every once in a while I find some smart cat remark that works. 
She told me I was being difficult and let me chew the flowers. I told her that if she wanted to put some of those retro flower stickers on my litter box, I would dig that.
Sometimes her Zen does not work on me. 
I won, rock on!!
Yes, I took the pledge. 
I had too, she feeds me. I am an "un-official" hippie cat. 
Oh, I still love her flower power Hippie Cat ways, but don't tell her that.  
Miss Mattie.