Mr Bailey, AKA the Zen Cat
Name: Mr Bailey, or Bailey, Blue eyes, Bailey Boy, B-Lee
He is a red pointed Siamese mix with big blue eyes. He also has the softest fur….
Age: Almost 5, although he seems much wiser in cat years.
Favorite Food– He likes moist food in shreds and he enjoys chicken. Pounce treats are his favorite.
Favorite toy- Milk rings, feathers and playing with Miss Mattie.
Favorite Cat Position: Mr Bailey is the Zen Cat of wisdom and purrs. He sits on his cushion of contentment in the window watching the birds. He also hides during thunderstorms and when any human dares to enter his space.
Mr Bailey pads ungracefully around thumping his paws as he walks. You hear him long before he enters the room. He makes an entrance as this Zen boy pads to his pillow to share his wise ways.  Mr Bailey is always in search of his Zen. He finds it in the strangest places and does his best to remind Miss Mattie when she looses hers.
I think he once had a conversation with a flea about being zen.
Mr. Bailey is the one of the reasons we are a blog focused on Zen and Boxes. I think he found his Zen under a box. Unfortunately for him, Miss Mattie chews up the boxes.
Mr Bailey likes to bury things…under socks, clothes, napkins. You never know what wisdom you will find.
Zen Thoughts:  "Pad your way with mindful intent. When you find what you are looking for, you have already lost it. Start again." 
Un-Zen: He is not so zen when it comes to Miss Mattie. She challenges his patience so instead of being all zen like, he" attempts" to becomes the zen warrior kitty pouncing and playing with determination. Mr. Bailey is part Siamese, so once in a while you will hear him howling. We think he is teaching his mindful ways to anyone who will listen. Or maybe annoying Miss. Mattie. We will never know.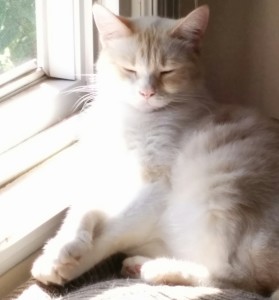 Silly Friggin Kitty: There is a post about  Mr. Bailey in Zen Bird Watching. (It is funny)
He also likes to stick his paw in soda, I think he likes the bubbles.
Hugs, Peace & Purrs..KT