Happy Valentines Day Cat Friends! 
We can learn alot about a cat and ourself by looking at a big ball of yarn. And on this post you can learn 10 lessons in love from a cat.
Watching a kitten make a mess out of a ball of yarn is a delight… we can also sit back and see how it reflects our own love life.
Love is like a big ball of cat yarn.
Most yarn don't come in a ball so you have to take the time to wind it up. If it it's made too big, it is overwhelming and the cat can't maneuver it, too small it won't roll … just like love.

There are always two ends in the ball of yarn. Each is equal and each end contains all the yarn in the center. The cat will find these two ends in time, so will you, so don't rush.

Its shape may start as a ball of yarn, but over time it can be cultivated, woven, and made into a beautiful tapestry of your choosing. Who cares if the edges fray, that just gives it character…a small gift that cat can play with.

The cat will make your house a home. Sometimes it looks like a mess, other times it looks silly or nice. See the beauty in their weaving skills and remember, sometimes leaving it alone for a while is ok. On the contrary, sometimes you may need to starting "cutting" out what is tangled or a mess.  This can be easier than trying to unwind it again.
Love is not bound by string, it is held together loosely. Even when you knit or crochet they say to do so with soft hands and loose stiches. Too tight a weave in your tapestry can remove the give and take. Try not to bind up what is meant to be free.

If you are going to create knots, do so with intention only, otherwise you are creating intentional obstacles that are really hard to undo. You and the cat can get knotted all up.

Yarn can break if you pull too tight or put too much pressure on it and overtime if you are not gentle and respectful in your ways, the yarn can become fragile. Be gentle with what you love and try not to get the cat claw stuck in the yarn.

The best yarn is the one that is to our liking; vibrant in color and softness in touch. Where we feel safe and cozy.

Playing is important and should be done safely. String play time should be done when the cats can be watched, plus it is good for us to do so mindfully as we enjoy the yarn-cat connection. If you take the fun out of playtime or not allow it.. you will find a sad cat, and a dusty ball of yarn.

Yarn balls make nice pillows, when it is all too much…let it all go, cuddle and take a nap together. Sometimes simplicity is the best way.
These lessons in love can teach us …

Above all, our yarn string should be connected to the love string of our heart…cat included.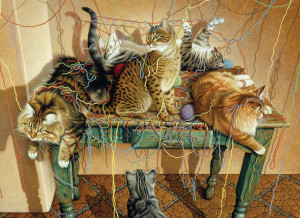 AT Cat Box Zen, we knit it all together with a big ball of string.
-KT Cat Paws