By Mr Bailey, The Zen Cat 
That is the question huh?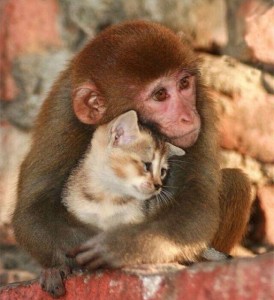 Gratitude hugs the soul, as cuddles infuse the spirit with love and affection.
KT Cat paws
I am a cat that gets annoyed when my human takes or demands cuddles.
You humans all do it, especially the crazy cat ladies!
You hold on just a little too tight when we are trying to get away from your affection.  We squirm, wiggle and look all distraught cause we know the cuddles come with kisses and baby gooing.
I know, you just can't resist the soft fur, warm paws, and our bellies are sometimes too much to resist. Our purr is intoxicating, I know.
You have cuddle needs, so you go from one cat to another until you get your full of cuddles and love. I think you may have a cat-cuddle addiction. (They have therapy for that you know)
Do you have this need for closeness? For love and cuddles, or are we just to much to resist?
As I sit on my cushion of contentment free from cuddles, but warm and content. I ponder this situation, as it effects all us cats.
What I came up with is this….
Cuddles can never be demanded, only accepted
Instead of demanding cuddles and love, accept what you get.  You will appreciate it more when we give it on our own. It will be a lovely surprise…right?

Know your cat-cuddle quota. Yes, just like the belly-rub time limit, we have a cuddle limit too.  Step away from the cat just a few moments before that quota is up. Your hands, and soft scratchable skin will thank you for it and we will appreciate it. Perhaps we will give an extra minute of cuddle for that. Probably not, but it's a nice thought.

Appreciate the small bouts of  cat love; our gentle head bumps, paw kneading on the shoulder when you pick us up after a long day away, or when we sit next to you on the couch. That is how we cuddle…our own cat cuddle language.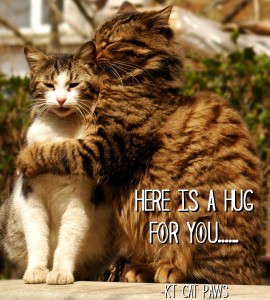 Remain present to savor these tiny zen-loving moments that we give you. 
Be a delicate cuddle person. Be gentle and in awareness that sometimes a little less is a lot more.

Resist the temptation to take too much because it is not yours to take, even if you are the one with the tuna and can opener. I know, it is hard for me too, cause I want that tuna, but we also know that you may never get your fill of cuddles especially if the need you are filling is deep within you. (Call a friend who loves you)
A few more points that may be harsh…
Lastly, your significant other WILL appreciate these words of wisdom. Apply these to them too! (minus the tuna and can opener)

If our cat cuddle quota is wrong for you, perhaps you need a dog, a ferret, or a good cat-free psychologist.  NO, you don't need another cat.
The monkey is mine!
So to answer the question …To cuddle or not to cuddle?  Of course! Only on our terms.
Mr Bailey, the Zen Cat!