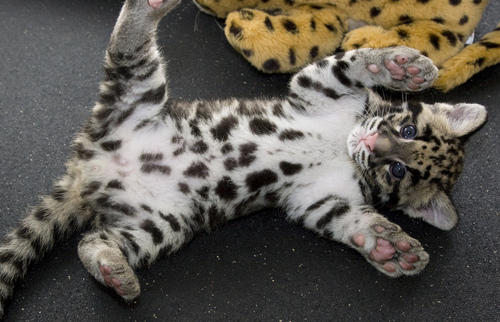 "Rubbing a cat belly is an art form; attention to detail is of utmost importance." 
KT Cat Paws
The Tao of the Cat Belly Rub
By Bailey, the Zen Cat
The Tao is actually called the "way."
It is a "way" to understand something in a simple manner; in harmony with the natural balance of life. No need to struggle, just be present, listen and learn.
Here is the "way" to  rub my belly.
As a cat I expect attention…period.
My belly needs an occasional bout of attention too.
When I feel safe in my home, I like to roll on my back, stretching my paws to expose my glorious belly. This is not the time for a rub…Yet.  Unfortunately, my belly becomes a target for tiny fingers and toes to descend into the furry depths for a squeeze or poke. NO.
I will not have it.
I will teach you the ways of the belly rub so please pay attention.
First rule. It is a honor to give a belly rub. Don't take this job lightly.
Find a quiet place to rub my belly, I need complete attention & devotion. These jealous interruptions by your spouse or others in your family do nothing to promote my Inner Purr.

When I roll onto my back, and look up at you, I am inviting you to begin the rub. I would suggest a short testing first; perhaps a mini-rub.

 Before you begin make sure I am supported on a large soft cushion especially if my belly is rotund. A rotund belly cannot hang over the cushion edge. A slight shift in my weight could cause momentum for the rest of the body to roll off the cushion and onto the floor. This will of course end our belly session rather quickly. I will no longer feel zen.

Rubbing a belly such as mine is a gift. It must be done with caution and attention to detail. This is not the time to rub my checks, kiss my paws, or remove debris from my fur. This is not the time for tickle tummy either.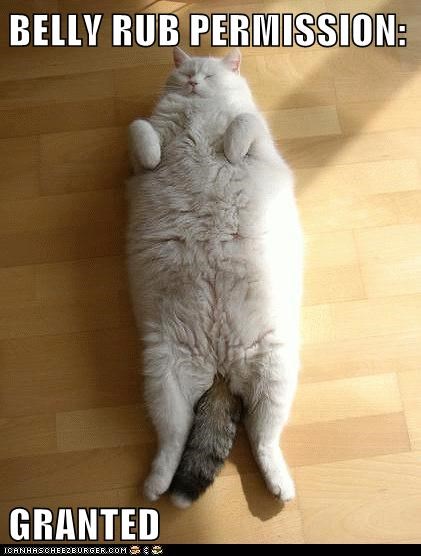 To commence the rub, start at the top of my chest and gently rub downward towards the bulk of my belly, paying attention to ever piece of fur. Rub in a gentle motion using the soft pads of your human paws. Use only one hand. Move along the sides of my belly as we don't want any areas unattended too.

Look for clues of contentment during this process. Do I look blissful with a happy purring face or are my ears back looking at you with a sour puss. Be aware; your hands depend on it.

 Enjoy this mindful rub as it will soon be over.

In about 15 seconds my paws will retract upwards to remind you that you only have 5 more second of rubbing. Slow your rubbing to prepare for your exit strategy. It is dangerous for one to exceed the parameters of the belly rub time-limit.

Although, I know you may feel compelled, but please not smooch my belly at this time. It is highly inadvisable! Getting my claws out of your scalp will totally ruin my happy state and I am not about to paw rub your head.

Once the belly rub is over, you may continue rubbing behind my ears, my head and at this point you may kiss my butt. I mean paws.

Tuna is also an excellent substitute for an ear rub, and it is great for butt kissing.
You are welcome for the opportunity to learn the way of the belly rub. Please share this with those who are unaware of this important endeavor.
Be Zen.
By Bailey 
#jellybellyfriday 
Disclaimer. There are some cats who do not like belly rubs. Rub with caution.