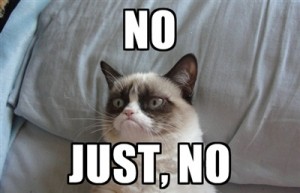 The cat can say no and we love that about them.
Our cute and independent sassy cat can say no better then you.
When Mattie decides not to do something, it is not going to happen. She walks away with her tail up in the air, slowing waving it side to side in a meditative form of cat tai-chi.
She has just said NO. Period.
NO is a power word, which causes a lot of ear flattening-recoil for many. It is a final word, a word of reject, and to some it's a word that screams never. It is also a word of determination, exactness and decision.
It is better than the wishy-washing word "maybe" which sounds like…
"I used to be indecisive but now I am not sure."
– Tommy Cooper
So what do we do? 
As a loving cat, you want to value the other person. A few ways to lighten the proverbial no is to say… "Not right now", "No, thank you", or "I can't give you an answer right now, but I will get back to you."
Consider your time commitment to the yes.
If you feel intuitivitly that you want to say no, go with it. Feel it within; Is it a heart yes, or a head yes?
Saying NO doesn't mean you are a bad kitty, although most feel 'bad' or guilty. It comes from that nurturing need to be helpful, to be courteous. To make others happy.
For many "NO" is a big guilt word. Do you say yes out of guilt? Is there a pattern?
When you say NO this week, notice the excuses you tag along with it. Do you always give multiple reasons? Are these reasons for them or you?
Try some stand alone No's or give only one very short reason. BE mindful of the internal push and pull that will be created inside if you are not use to this. Embrace it and release it. For some it is the difficulty of making a solid decision.
Taking the NO paw approach may be uncomfortable, but it may also bring some clarity in your thinking and it may just help you gain some sassy kitty-ness with the use of this power word. If you still have trouble, channel the master of the word NO….Grumpy-cat.
Your cat says NO all the time. Learn from the wise ones brave Kitty!
Tell me NO…I dare ya!
Hugs, Peace and Paws!
KT Cat!