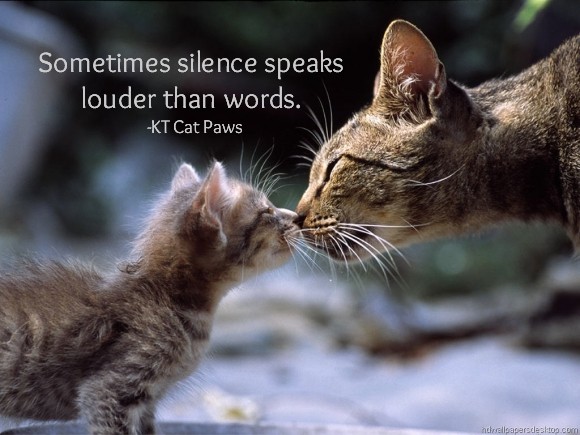 "Simplicity is sometimes just listening and not saying a word"
KT Cat Paws
Listening to constant meowing? It gets annoying huh? Especially, if it is your own voice.
Yes, I am talking about you…not the cat!
Sometimes silence speaks louder then meow. Right?
We love words and we love them constantly. More then the words we love the sound of our own voice. It brings a sense of aliveness, of something happening and becoming real. We love it so much that everything has a sound or a noise attached to it. We fill every silent space with words plus a few more on top…just in case an empty space needs to be filled.
We love to think words and noise too! Our minds are going all the time. We are thinking before we speak, and even speaking before we think.
Once you use a word, it creates a form; a container like the box. This creates a limitation within that word. In other "words", it has a description; a meaning which attaches a label. Once you label something it is harder to see it in a different way.
So, how do we shush the meow so we can expand our mind?
"Be careful of your thoughts; they may become words at any moment."
Ira Gassen
Dude…silence that meow.
Silence lets us be one with the moment, releasing the need to speak, answer, explain, complain or comment. We won't have to fix or contain anything and in doing so we have released the label and open up the ability to move beyond it.
When silent, words that flow in are received and soon dissipate because we can't use them. So, it actually frees up the mind which adds a little bit of space in there.
Space to be Zen.
When we allow this silent presence to take over, we slow down the mind chatter which in turn slows down our perception. We become open to what is around us. Before long we will notice other senses of touch, taste, sight and hearing improve. We allow ourselves to feel instead of think. When we fill up the space this way, we become more connected to those around us and to our relaxes state of being.
So, take the lesson from the cat and listen to the purr instead of the meow.
Did you know that cats don't speak to each other, but they do alter their meow to get our attention? They have to cause we never shut up!
Yea…word on that one!
Just remember when it comes to silence speaking louder then words…
 "The words you choose to say something are just as important as the decision to speak."
~Author Unknown
---
No Meow Day
Want to try it? Have a silent day
Being with no meows means that you are completely silent; no words, no mimics, no writing.
In the movie Eat, Pray, Love, the character was in silence for a long period of time.
I would suggest starting out small, like being silent when you are in the company of a few friends. Removing the ability to 'chime' in will allow you to see subtle changes in others, along with noticing their need to talk. It is an eye opener trust me and this experience can change the way you listen and speak.
The next time you do this be silent for a minimum of 4 hours then move on to a half day or a full day.
You may need to remind everyone what you are doing because they will challenge you to speak. Wear a silence pin or card that says "I am in silence" if necessary and enjoy the process.
I will not lie; it feels uncomfortable for a bit in the beginning but as you let go to the need to reply to others you begin to listen more deeply, hear things that you may not have heard in the first place and enjoy the conversation that is happening in the present moment.
You may even begin notice subtle changes in your cats' meow.
If you like this exercise, then I would suggest finding a yoga or weekend retreat that focuses on silence.
KT Cat Paws…
"Don't speak unless you can improve on the silence."
Spanish Proverb
[yop_poll id="3″]