Miss Mattie "Paw-Popping" Pattie
Name: Mattie, or Miss Mattie, Mattie-Pattie, "paw popping" Pattie. Pattie pants, Miss Mattie of mischief, Peanut and Mad-Pad. 
She is a tiny black and white short haired cat with green eyes. She weighs about 5 lbs and she won't get much bigger. She is full of pure Sass! This is where her "Paw-Popping" comes from. She will pop you quick with her fast drawing paw. No claws of course, mostly love pops. 
Age: Almost 2 years old, but acts about 4 months old.
Favorite Food– She likes everything and once tried to eat my bag of potato chips. She definitely needs watching as she has the potential to get as wide as she is tall!
Favorite toy- Toy balls and feathers. She will chase them around for hours. Her other favorite thing is to hide Mr. Bailey's Zen. ( He looses it every-time they play together)
Favorite Cat Position: Well, if she would sit long enough I could tell you. She loves to play so she's usually walking around with the ball in her mouth. 
Miss Mattie is the one who reminds us that being Sassy and Fun is part of being present and Zen. She is tiny in size so she is rather deceptive when it comes to her Sassy ways. She is treated like a kitten, but there is a lion underneath. She also thinks she runs the household, which I am starting to believe is true.  
Zen Thoughts:  "If I need Zen, I will take it from Mr. Bailey." "He sits on his Zen while he enjoys that dumb pillow of contentment. Maybe I will just steal his pillow."
Un-Zen:  She pads, but there is no purpose. She meows, but there is no reason. She does bring love and joy into the home while keeping us on our paws. She keeps it real!  She doesn't play well in the cat box with others because she is usually chewing the box or bag. She is also very bouncy so she pounces on Mr Bailey. (He loves it, don't be fooled)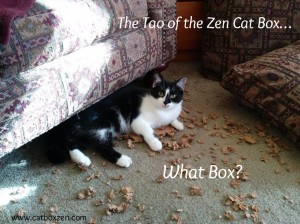 Silly Friggin Kitty: Well, she just destroyed my paper towel recently. She left it dead in the living room, then went on to destroy the other one.  Box Lessons
As of now, Miss Mattie is in Zen training with Mr. Bailey. He wanted a student, so he got Miss Mattie who really only wants to learn ninja cat ways. We think she is trying to learning this on her own. Miss Mattie the Cat is a force to be reckoned with, just saying.
Hugs, Peace & Purrs..KT