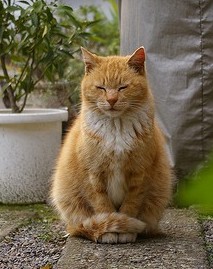 "The amazing ability of a cat is that their essence can guide us gently to connect to our own Inner Purr."
-KT Cat Paws
Do you embrace your cat as a spiritual teacher or just a cute companion?
Can you relate to their wisdom and silly wise ways?
How deep is your Spiritual connection to cats?
You will only find this here at Cat Box Zen—exclusive test!
Take the 25 question test to find out!

At Cat Box Zen you will find information and articles about the ways to connect spirituality, not only to cats but to your own inner wisdom. 
If you see the Zen in Cats then perhaps the Cat is waiting for you to embrace your own Zen. 

Take the test and see if a cat is truly a spiritual teacher for you!!

Mark each question with either a number from 0-3 based on your answer. Once you are done add up the numbers and see your results below!
0
Never or not at all!
1
On occasion or once in a while
     2
Most of the time, frequently.
3
All the time, absolutely. Yes!
 

You have always had a cat in your life in one way or another.

All cats seem to love you. No matter where you go, the cat will follow you, hop on your lap or sit near you. They seem attracted to you energy and you to them.

The image of a cat consistently appears in your life; everywhere! May be physical or it can be a representation as pictures or cards given to you. You may see them in dreams, TV shows, 3d images that are obscure but clear in trees, clouds, etc. Perhaps in your toast. These images or cat "visions" appear over and over again in the strangest places, however they still make you feel protected and comforted.

 You sometimes feel like a cat whisper. That you just "get" the cat. 
You have a deep love for cats and can't figure out how people don't like them. You see something real, awake and spacious within a cat that goes deeper than just an animal.
You have prayed, done magic, or ceremony for or with your cat.
You have multiple cats and can adjust your behavior to their different personalities and ways.
This quote resonates with you "The cat has too much spirit to have no heart."– Ernest Menaul
The

 9 Cat Essences at Cat Box Zen makes sense to you. Playfulness, Loving, Inquisitive, Sassy, Determined, Patient, Intuitive, Zen & Sacredness
You love the silliness in a cat.
You can relate to this quote. "I have lived with several Zen masters, all of them cats." -Eckhart Tolle
You are connected to other people who have cats; cat like mind.
You love information on Spirituality and when you ask for guidance, it seems to fall into your lap with ease; almost synchronistically. There is a flow that takes place. 
You have taken the

cat personality test

and have found that it matches your personality easily. 
You are attracted to the feline power, sassiness and independence of the cat.
When you are having a difficult time, the cat seems to pad along with you. You have this deep feeling that the cat is a wise guide to help along the way.
You become more conscious and present when you are in the company of cats.
You believe the cat is your totem animal, spirit guide.
When you're around cats you become mindful and relax. The purring, face washing, or when you pat a cat always brings a meditative sense of being to you.
You believe that cats can easily sense the different realms in this world, having a paw on what us humans can't easily see; including the afterlife at times.
You wonder if the cat you have now is an incarnation or expansion of a previous cat you have once known or had and is here now.
You talk to you cat and wonder if they know more then you think. 
You realize for such a small animal, they don't seem small. Instead they seem spacious and larger than life. Often when you are nose to nose with your cat, you are the one who feels small.
You "know" without a doubt there is so much wisdom in a cat that it doesn't surprise you they were once worshiped as Gods. There is an undeniable divine presence and magic associated with the cat.
---
Results of test.. 
Less than 20  

Cats are cute, cuddly and you may own a cat and love it very much. At this point, there is no spiritual connection at all and may never be one.

If you want to enhance the connection, start to learn more about ways to enhance the natural bond with your cat. You love you cat but don't have that spiritual connection. That is ok, focus on spirituality separate from the cat. Find out what inspires you and focus on that.  Maybe along the way the cat will bring it's zen lessons to you.
Take this test a year from now and see if your results have changed. 

20-35 

You like cats and are attracted to their energy on a subconscious level. They are great companions who bring you love, keep you happy and content and on occasion they may bring you a gentle feeling of spiritual openness.  At this point, you are not yet connected to your own Inner Purr.

To become more open start small as anything that seems "far-fetched" may close you up. I would suggest reading more about cat behavior paying particular attention to their ability to sense what we can't. ( intuition and perception) Continue to read the articles from the Cat Box Zen and keep a sense of humor. It may be that you are not yet sure of the direction of your own spiritual path or you can't see the overall connection between the cat and spirituality. Once you find a comfortable spiritual path you can expand it to include the cat and possibly open your heart and mind to their gentle teachings.
I would suggest taking the test again in 6 months to see what has changed. 

35-45 

The cat brings you a sense of awakened calmness. Frequently you sense something more that is intuitive and present within your cat that you can't quite understand.  It is time to allow it to open…naturally. Listen and embrace the calm purr within! 

 I would suggest looking to the cat as a totem guide, trusting that they will provide the direction to move you forward. Try some gentle meditation or sitting still as you focus more on non-verbal cat communication as a way of enhancing communication with your cat. Start to read some cat related articles of interest including learning about the 9 Cat Essences to see what connects to you on a heart level. Be an inquisitive kitten that digs at knowledge taking what he likes and leaving the rest behind.
No need to rush here! Be gentle in the process and have fun! Take this test again in 6 months to see if you have increase your cat zen connection.

45-55 

The cat has touched your soul and has started to awaken you. There may be a feeling of awakening and presence when you work with your cat especially in the heart center. Purring brings peace. 

To expand further, I would suggest working with other cats besides your own. Expand on different cat essences so you can continue to be open to the synchronic ways the universe helps the cat provide guidance. Start to embrace and develop your own intuition as that will provide some inner guidance as well. Continue to meditate and be open to the present moment. Try not to over-think this process as it can't be measured, only felt. Keep a journal of your experience to look for repeating patterns and synchronic events. (Random occurrences that happen out of nowhere but are exactly what you need)
Take this test 3 months from now to see what has changed.

55-65 

The cat IS one of your Zen teachers and you should feel proud and honored to have this connection as it requires openness, reflection and spiritual awareness. You are becoming Purr-fectly zen. You are a free thinker who moved outside of the zen cat box.  Awesome!

Continue to learn and expand the bond you have with your cat. Start some active spiritual work with the cat in different areas of creative expression as it's now about embracing the unique paw print inside of you. (Try writing, drawing, or any form of creativity to tap into your full potential.) Create that cat shrine if you haven't done so yet as that gives you a sacred space and a place of honor. Meditate on your purpose in the world. It is time to incorporate your cat workings in ceremony, paying particular attention on your personal connection to the divine sacredness within as there is old inherited wisdom and magic there. Continue to expand and embrace your Cat Essences too, especially the essences you have been avoiding! Do all your work with presence of mind, sacredness of stillness while trusting your intuition and heart.  

I would suggest finding others who honor the cat as they cat because they help guide you upon your journey with love and understanding. 

65-75

You are truly in touch with the wisdom, teachings and mindfulness of the cat as your Zen teacher.  You are at the place where you are awakened; living in the space of your unique paw print. You keep the heart, soul and open connection to the cat as a way of embracing life and you do so with the resilience and grace of a divine cat.

I respect and honor the zen cat within you as a reflection for others to embrace.
Continue to go deeper in your spiritual work with the cat. Meditate on life, the interconnection to the universe and to all beings. Stay in purr present in the now and enjoy this journey called life. If you haven't already, perhaps you should begin teaching others of the spiritual ways and wisdom of the cat. Start a blog, write etc. It may be a part of your awakened purpose.
Stay in purr presence.
Stay in gratitude.
Now walk to the gentle beat of your intuitive heart.
You will always find the way.
KT Cat Paws
Peace & Purrs, KT