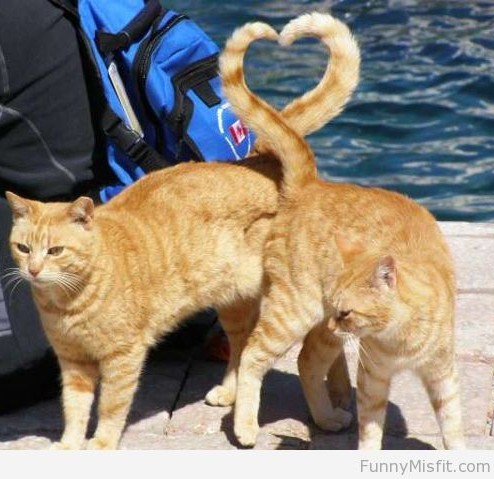 Did you ever notice the longer you look at a cat's tail, the weirder it looks? It looks like it has a mind of its own. Well, as funny looking as it is, the cat tail tells a story and it doesn't lie.
No telling tales here.
The 2 main functions of the cat tail is balance and communication. Learning to decipher cat tail language is one of the best skills you can have to notice the subtle mood changes in your cat.
Keeping in mind that not every cat is the same, here are a few common cat tails.
High tails
Straight up

– shows confidence, contentment and welcoming.

Straight up and twitching at the tip

– So happy to see you tail! This is love in cat language. Sometimes the micro- quivering happens before the cat sprays, watch out.

Straight up with a question mark curve

-This is the relaxed, playful and inquisitive cat state of mind. Get the toys out.

Puffed tail

– Can be up or down, but usually looks like the Halloween cat. I know, stereo typing. This larger tail makes the cat look bigger and more aggressive. It puffs as a protection or  startle reflex. The cat is ready for a fight. This is like a man pumping his chest. You know what I am talking about ladies?
Low tails
Tail low and curved up like a U

.  This is a content, relaxed state. Most cats hold their tail this way.

Low tail

– the lower the tail, the more annoyed or unsure the cat is. Although, some cats keep their tail low all the time.  Persians for example.

Upside down U tail

-Upside down U, or tail whipping around or slapping back and forth is a sign of frustration or being annoyed. Basically the cat is saying stay away.

Swiffer tail

– when a tail moves gracefully back and forth in a large Swiffer movement, she is usually intently focused on something. NO, it is not for cleaning your floors.

Tucked tail

-If the tail is tucked away between the legs, this is submission and that means the cat is anxious or afraid of something.

Tail wrap

-Tail wrapped around another cat or you is the sign of a cat-like-hug. They like you. Be happy.
Different tails of a feather…
Cat-chasing tai

l- Woot, Woot!! Well, yes cats do chase tail. A lot of it, but usually not their own. Kittens chase their tail as a form of play, but most adult cats grow out of it.  Perhaps they are hanging around the dog too much?  If the cat does it often, just make sure there is no damage or issues with the tail.

NO tel- tail signs

-A cat tail needs to move. If it doesn't have any movement or just hangs there, it may be damaged. This is serious, so see a vet right away.  Sometimes they may have some difficulty with nerve damage or pooping, but most can live and balance without a tail. I had a cat that lost his tail and he did great. He was graceful and as powerful as the other cats. He was long in size so he looked bad-ass without it. He looked so good, that most people though he was born that way as some cats are.  Instead or reading his tail cues, I just looked to his eyes and ears. Since he had the most expressive eyes, it was an easy transition.

Don't pull the tail

– We have all done it, but don't. A cat's tail has nerve endings so pulling can cause discomfort and damage.
Mindful tales for us…
Be the curious cat who wants to understand this form of non-verbal communication.
A cat's tail is very zen like and can be very meditative to watch.
It's a wise cat who watches the subtle signs of others.
Take a few moments to be present and just watch the cat tail. Watch for the graceful movement of the cat tail. There is a power yet gentleness. It's like watching tai-chi as the purposeful movement cuts through the air with grace.
Watch the cat jump and watch the power of the tail guide them. Watch the the tail as the cat moves, plays and interacts.
#tuesdaytail
Hugs, Peace and tail chasing days! KT
Shhhh…you are becoming a tail-whisperer.
"If we all had tails, maybe there would be better communication in this world."
KT Cat Paws