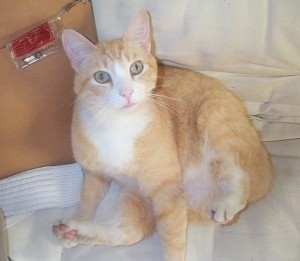 " Paws walk over our heart creating these tiny prints of love that lasts forever." 
KT Cat Paws
Colby Cat.
He was my hero.
He is a cat who I truly appreciated for being in my life. He inspired and challenged me and above all he opened my heart.
This was my Colby.
He was born in 1998 and came into my life about 6 months later. He was outgoing, friendly and loved to chase milk rings. He adjusted well with the other cats as he soon became the strong "boy" cat of the family.
About a year later, he became lost.
I was devastated.
He was gone over three weeks. On the July 5th, as I was getting out of my car, I felt a rub on my leg. Colby returned! Skinny, battered and limping with his tail dragging behind. He had returned home.
He had broken his pelvic in two places and fractured his tail, plus he lost a lot of weight. The pelvis healed without surgery with only a slight drag to his back left paw when he jumped, which didn't effect his movement at all. As for his tail, well that had to be amputated.
Healing form his injury took time but as he healed he played with the other cats including a silly kitten who would jump all over him. In some ways, I think the other cats kept him going. Before long he had regained his weight and was back to his Colby cat ways.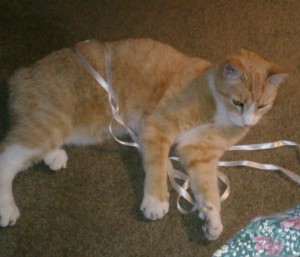 Colby was a good size cat with a long body shape. He actually looked handsome without his tail. Gave him a bobcat look.
Besides, his tail, he lost his kitten essence after that ordeal, but as an adult cat he became more spacious with an air about him. He was the house greeter and he had a way of looking at you as if he understood.
Nonverbal communication at it's finest. Colby loved celebrations and meditations. He would sit with me, or sit on the altar as I meditated. He would pad around and make sure the house was secure. He was the cat who other cats looked up to and followed his ways. When friends would gather for spiritual talks and working he became know as "bump." The cat who everyone loved.
I became fascinated with his zen cat ways and admired his determination, presence, curiousness and Sacred feline presence. He had an uncanny intuition for people. He would glare and growl that those he didn't trust and honestly he was an excellent judge of character.
To me, Colby was an old cat soul who used each of his nine lives in the best way possible.
I loved, admired and respected  my Colby Cat and still do.  I am forever grateful for our time together.
Many years later Colby became sick with a tumor on his gums and hypothyroidism, He never wavered. He has surgery for the tumor, but it grew back. As for the hyperthyroidism, the medication  never really worked. After stopping the medicine and letting nature take it's course, for almost 2 more years , he held on with Zen presence. He moved slower and didn't play as much, but he still ate his tuna, played and jumped around the house. He also had a chance to meet and teach Mr. Bailey his zen ways.
Colby hung on for a long time, until he gave me the "look." His eyes and his non-verbal ways told me that it was time.
We often look to other people in our life for the way to live, but I can tell you that I have never seen a cat who had more drive for living then Colby. I had Colby for over 16 years and I am beyond honored and blessed to have shared my life with him.
He was truly and inspiration and if he was here he would tell you to be present everyday even if the day is not perfect.
Colby the Cat went over the rainbow bridge on August 27, 2014.
Now, in the land of the meadows, they have an awesome cat to greet and guide others over the rainbow bridge…He has definitely earned his place among the best.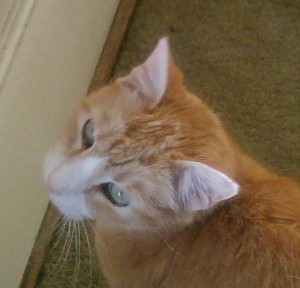 "May his Spirit find health and peace in the meadows beyond the rainbow bridge…
Let him roam and run, play and hunt until we meet again…"
Love you Colby, Thank YOU!
P.S Before Colby passed away, I wrote a Cat loss ceremony. I had to do it before his passed as I knew I  wouldn't be able to do it afterwards.
Please feel free to download it and use it if you wish.
Love, Peace & Blessings to you……
KT Cat Paws