The 9 traits of a Zen Cat
When you find the Zen in a cat, you will find it within. 
Kt Cat Paws
The 9 "traits" or "Cat Essence" is a term at Cat Box Zen that is use to understand a cats personality and behavior of a Zen Cat and see the these similarities reflective within each of us. 
Utilizing an animal as a model of behavior for spiritual development is not new. Over the years animals have been great teachers and in some cultures they are revered and even depicted as Gods.
Native American traditions work with animal forms to connect not only to the animals but to the animal power. This could include shape-shifting or noticing one's "animal" behavior. These animals are sacred and honored for their teaching.

In Buddhism lions are symbolic of the bodhisattvas, which is the highest spiritual attainment one can receive.

In Hinduism, many animals are incarnations of Gods. One being Lord Ganesha, who is depicted as a human form with an elephant head. He is the God of writing, prosperity and removing obstacles.

In the Egyptian Culture most of the deities were known for having an animal form. Our Lovely Bast who started off with a lion head, is now seen as a domesticated cat. She held years of admiration and worship is ancient Egyptian. Even Sekhmet, the powerful Goddess with a lion head who is known as a destroyer can teach us a thing or two about our own self-sabotaging nature.
We like to see our pets as a reflection of a human. We superimpose our thoughts, ways and sometimes even clothes on our pet so we can connect to them. Using the cat essences  is away to understand the cat without driving the cat crazy. ( put down the cat sweater)
What we like about a trait or dislike about a trait can speak volumes to our own personality. 
"What becomes a frustration in us, is usually a reflection in us".
 We love the cute and cuddly cat, but we forget this cat is a hunter who plays with its food.
We love the regal lion that is roaring, but can forget his power and domination.
Gently embracing the Cat traits can bring awareness to all sides of the spectrum; whiskers tails and all. Although, I do hope you don't tease your food before you eat it.
I am not asking you to change, but to learn and accept who you are and to trust that inner cat wisdom. 
By contemplating on these 9 Cat Essences ( traits of a zen cat) , you can learn to quiet your mind and become more connected to that spiitual side of you that got you to this site in the first place.  You will also connect to you cat better.
The main rule, no matter what…..
Always embrace your Inner Purr
The 9 Essences of a Zen Cat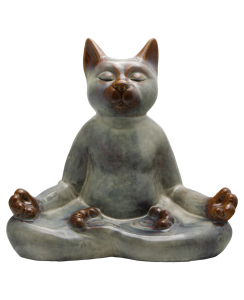 Playfulness, Loving, Inquisitive,
Sassy, Determined,
 Patience, Intuitive, Zen
 Sacredness
Patience
As a patient cat, I know when to be passive or active while still being cat like persistent about it!
Playfulness
As a playful cat I am silly with a tad of mischief. I will laugh and have fun every day, even if I just chase my tail.
Loving
As a loving cat I am subtle yet strong, affectionate and protective. I give cat love that is intentional, unconditional and I pride myself to have healthy boundaries. I have self-love, of course.   
Inquisitive 
As an inquisitive cat, I  seek knowledge by being the curious cat who is open to the world of experiences. I see my surrounding and interactions as they really are. Even my shadow side is seen in cat vision clarity.
Sassy
As a sassy cat I embrace my paw print on this world as I pad with my head held high living my authentic truth. I am beautiful, alive, spirited, friggin awesome and maybe a tad sarcastic! 
Determined
As a courageous cat, I have an adventurous lion like focus to be directed toward my goals & purpose without losing my cat essence or pride. I cooperate and play well in the cat box with others.   
Intuitive
As an intuitive cat, I embrace my unique cat sense; using my perception and heightened awareness, I trust my intuitive nose for knowing and my whiskers of intuition to be more aware of the  subtle energy around me.  My intuition will always align the truth to my heart center and authentic purpose.
Zen
As a cat with Zen Essence, I am quiet, contemplative yet practical and always keep a still mind. When I am spacious and present, I reverberate my inner purr. I enjoy the connection that opens to beautiful experiences and synchronic events.
 Sacredness
As a cat, I embrace, honor and respect the Divine within. (Sacred Feline, Spirit, God or what ever form your call it)  I incorporate all the cat-traits to tap into my greatest potential; the place my inner purr & unique paw print resides. 
Peace, Hugs and Purrs.
KT Cat Paws
Subscribe to my blog to get all my cat wisdom right to your mailbox.