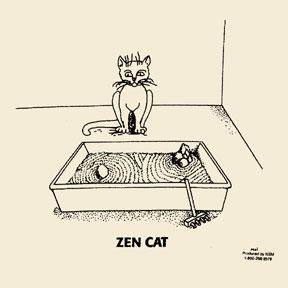 Art enables us to find ourselves and lose ourselves at the same time."
― Thomas Merton
Cat box Artwork is like therapy.
It helps our Zen Cat find contentment in his Cat Box.
The Cat becomes the artist; the creator of his own world. He creates art without realizing it.
Art is spacious; it is alive, creative and it opens us up to something deep within. Art teaches us and it captivates our senses.
All forms are artwork are sacred…unique. When that uniqueness touches our senses and soul. it moves something deep within.  
Here we have the Zen-Master Artist..Mindfully he creates a zen 'cat box' garden with swirls and paw rakes in his litter.
What is your Cat Box art?
Can you find the sacredness in your creativity?
KT Cat Paws…