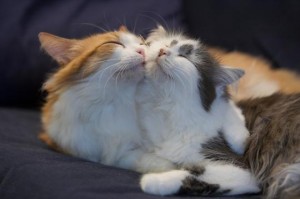 At Cat Box Zen, one of the Cat Essences is LOVE….or loving.
Cat's love is different than humans. They show love by purring, head bumping, kneading, giving us unwanted gifts and even looking at us with a warm welcome as they wrap their tail around our leg. They even put their butt in our face! Please don't do that with your boyfriend… well, actually….
The one thing that is constant is the loving nature of the cat is given without an expectation of return.
I know what you are thinking!  Cats are about as loving as a squirrel, except when it wants a nut, or in the case of a cat.…food.
Yes, it is true, but if you ask a cat mom or dad they will tell you that they 'know' their cat loves them. We see and feel our cat's love grows stronger over time. Now, if you own cranky cat or mean cat, maybe not.
As humans, we place conditions on love; expectations and destinations. Love always going someplace or has been somewhere.  We don't just love to love, we love to expect something in return.
We can learn to mirror our cats loving behavior and be like our loving cat.
Can you be open, affectionate and cuddly and give, without expecting anything in return?
Do you forget the importance of love when you see something you want? Do shiny object temporally obscure your view?
Do you have days when you are cat-like clingy or a bit needy? Do you have good boundaries?
Are you unsure of the love that is present in your life? Do you grumble or meow to create drama, or scratch at the proverbial door of attention?
Are you a happy, purring cat who is present in the here and now?
So, what needs to change to be more like a cat?
Realize that love is an extension of gratitude.
Love is truth; pure and unfiltered. It mirrors our soul. It start with opening; expressing the inner love you contain; your self-love.
"If you can't love yourself, how the hell you gonna love anybody else!" –Ru Paul
Consider more non-communication and trust by using other ways to express love.
Release expectations of what should be and instead love in the here and now with what is.
Above all, work on your inner love, the love that you give unconditionally to yourself.
See the "Love within meditation.
"Open to love; become love."  KT